Transform your culture with AI-Powered DEI Coaching

The most powerful AI-powered coaching platform for improving diversity, equity, and inclusion. Backed by world-leading DEI experts and customized for your organization.
Increase Self-Awareness of Employees

Employees will identify patterns in their interactions. Weekly insights and meeting real-time feedback help
Improve Your Workplace Culture
Improve interactions among employees with intelligent coaching. Subtle and private, the nudges are helpful for driving real change.
Ensure Equity of Pay
Pay inequities are often unintentional. They develop over time. Avoid unfairness by detecting patterns in your compensation data automatically.
Attract Diverse Candidates
Share your company's DEI story with data and visuals. Earn an Equalicert badge to use in your employer branding.
Build a Strong DEI Strategy
Data is the backbone of all strategies. All Equalicert to help your C-level get visibility, and partner to create a plan.
Retain Employees
Create a culture where all employees feel a sense of belonging. Watch your employee churn decrease.
How does it work?
Connect your systems (HR management system and meeting software)
Ask employees to install the meeting add-on
Start getting insights with powerful coaching and real-time feedback!
ALL-IN-ONE DEI ASSESSMENT

✔ Self-Assess your company's strengths and areas of opportunity using our full 360 degree assessment developed by experts
✔ Collaborate with colleagues on our platform to collect documents and conduct the assessment
✔ Chart your path forward if you are on your DEI journey, or just getting started
BENCHMARK AND SET GOALS
✔ Understand how you stack up against industry standards and peers

✔ Set goals for improvement

✔ Track improvements over time and share results with employees and all stakeholders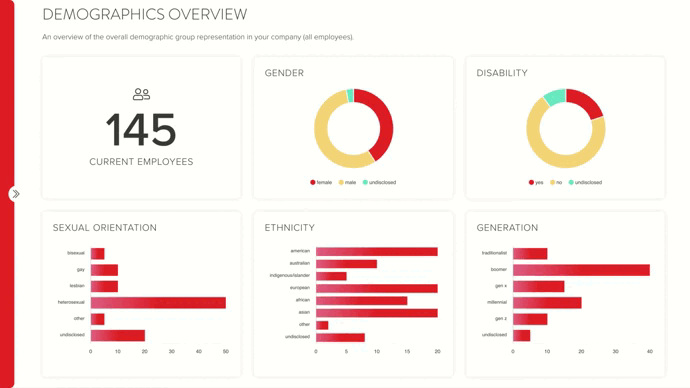 TAILORED DEI RECOMMENDATIONS
✔ Build a strategic plan to meet your company's needs
✔ Access the best distilled DEI wisdom from experts in our Practitioner Articles

✔ Get insightful ideas and practical guides to help you achieve your diversity and inclusion goals
DEI LEADING INDICATORS
✔ Uncover patterns in promotions, employee experience, psychological safety and micro aggressions

✔ Predict employee churn and take action to prevent it

✔ Discover warning signs before you encounter larger problems
VIDEO MEETING INCLUSION TOOL
This is a tool enables you to
measure speaking time by participant in virtual meetings
track interruptions
count lengthy monologues
Measure differences by gender in individual meetings, and across your organization.
Plug this data into your Equalicert all-in-one data dashboard to enrich your data understanding of your organization.